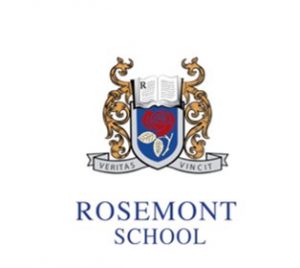 This weeks news:
Geography Rap
TY Physics
1st year Parent Teacher Meetings
TY Enterprise Award
Wear Blue Day!
Rosemont School Choir
Building Leadership
Teacher Series
Geography Rap:  
For a bit of fun this Friday, 5th year Geography produced raps on the sea erosion process, we are just missing the background beat!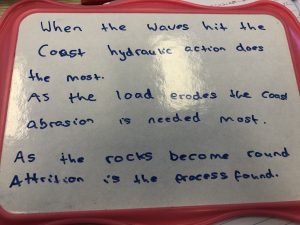 by Aoife, Maria, Sian and Lucy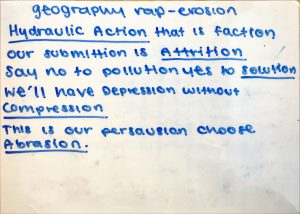 by Franziska and Aisling
TY Physics:
This week, TY physics students carried out presentations – 'Leaving Earth for a new home' – as part of their astronomy module. Everyone found it really thought provoking.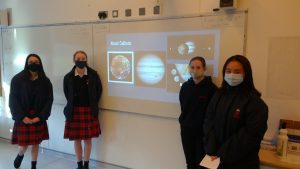 1st year Parent Teacher Meetings:
The 1st year parent teacher Meetings took place this week via Zoom.  Thank you for all the positive feedback and kind messages.
TY Enterprise Award:
5th Years, Abigail S, Alannah B, Lara K and Ciara O'C were awarded last week for their wonderful TY mini company 'Branch Out'
We, the members of Branch Out, took part in the Student Enterprise Awards last year. We came up with our mini company idea as part of our Business module in TY. As we had never done Business before, it gave us great insight into the subject, but also allowed us to learn beyond the classroom. We were due to attend the local Student Enterprise Awards on March 19th however, this was cancelled due to school closure. We were naturally very disappointed to hear of this outcome as we had worked so hard throughout the year and particularly in the lead up to the competition. We were very pleased that the judges were able to review and judge students reports across the region. We were delighted to learn that we were awarded 3rd place in the Dublin region.  We will also continue to keep developing on our business and helping the world one tree at a time. Abigail S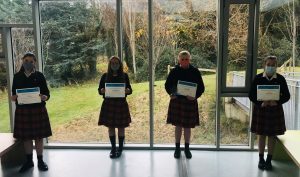 Wear Blue Day! 
On the 24th of November Susan Adams environmentalist and educator in conservation and climate change, came in to talk to us about plastics in the ocean. She gave us a presentation and then split us into groups to work on different action projects. As a results of what we learnt,  we decided that December 15th will be Wear Blue Day, students may wear their own clothes while paying €2 to donate towards the charity, Clean Coasts. In addition TYs will be making and selling reusable masks and the profits are going to Clean Coasts also. Finally, a group will be presenting to 1st-3rd years in CSPE on what we learnt. We believe all of these efforts will help to spread the information around the school. So remember, 15th December Wear Blue Day and donate €2. Anna Pollard, TY
Rosemont School Choir:
As the start of advent is upon us, we thought we would give you a little peak of what some members of the Rosemont School Choir are working on….enjoy!
A date for your diary – The next Building Leadership talk with take place December 10th, via Zoom.  Zoom links will be emailed to parents prior to the event.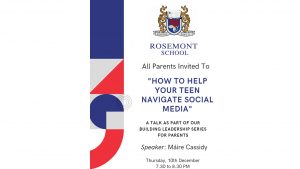 Teacher Series:  Ms O'Connor, Art