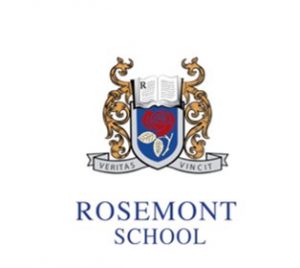 Weekly News:
Senior Art trip
Making Connections
6th year fundraiser
Senior Art Trip
Thursday 9th December 2021 was the day for our Senior Art Students Gallery Trip.  All of us headed off into town on the Luas and travelled all the way to The Hugh Lane Gallery on Parnell Square. The Hugh Lane has an exceptional history centred around the ground-breaking vision of Sir Hugh Lane himself.
We had recently studied The Impressionist movement, so we were particularly keen to view the two Claude Monet paintings on view. We had a tour guide booked so at 11.15 we met our guide and off we went. The Hugh Lane features many great Irish artists and our guide brought us to view the large-scale Sean Scully paintings. Large bands of colour, layers of paint and simple forms are the key features of Scully's work. The girls were hugely impressed with this abstract artist. His paintings are based on childhood memories and working as a young man on the building sites in London.
The Gallery also boasts a collection of 6 unfinished paintings by Francis Bacon and his studio which was brought over from London piece by piece. His studio was an absolute mess however he claimed that it helped him paint and kept his mind busy. His work is world known and is found in the best Public Collections.
Next our guide brought us to the European section where Edgar Degas, Berthe Morisot and Claude Monet are all on view. We were delighted to see Monet's work on the wall as we had studied his style, techniques, subject matter and brushstrokes all of which are key features of the Impressionist movement. Our guide gave us a great insight into his techniques and composition. This really helped our overall understanding of this movement.
After the Hugh Lane Gallery we stopped for some lunch and then made our way to the National Gallery of Ireland for a whistle-stop tour of some key paintings.
A day packed with visual culture! Ms O'Connor
Making Connections
First, second and third year students have once again reached out to alleviate loneliness and isolation by writing over 300 letters and cards as part of the "Spirit of Christmas" initiative for Dun Laoghaire Rathdown charity Making Connections. Well done girls!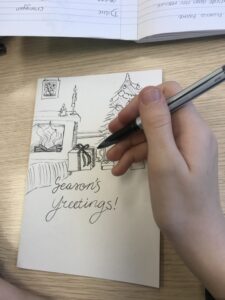 6th year fundraiser
The 6th year fundraiser took place today and girls had the chance to dress down and wear Christmas accessories, participate in a baking competition and bake sale, as well as play Christmas-themed games. The atmosphere is the school was absolutely fantastic.  Well done to all and for such a worthy charity of choice: LauraLynn.