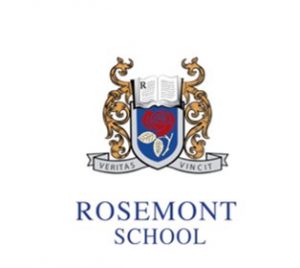 Weekly News
02/10/ 2020
6th year field study trip to Larch Hill Friday 25th September 2020
On the 25th of September, the 6th year Geography class travelled to Larch Hill in order to complete the River Investigation that is part of the Leaving Certificate course. The day was mild but dry (thankfully!), and upon arrival, we met with the coordinator, Louise, and shortly after, we began the short walk to the River Glin. We had a series of tasks to carry out as part of the investigation, some of these involved getting into the river, which was not the most attractive idea -especially right in the morning. However, we proceeded with a positive attitude and completed the activities efficiently. After finishing the required tasks, we were treated to a hot chocolate, this was a nice way to end what was a productive, enjoyable and informative day out. Lucy Hand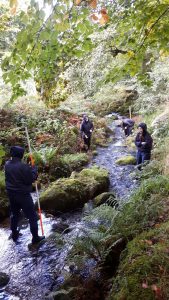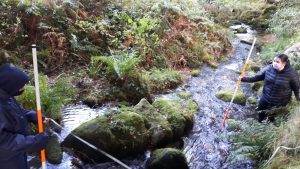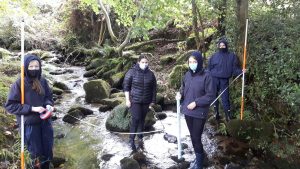 Office356 TEAMS Training
Office356 TEAMS Training this initiative arose from feedback on our questionnaires to parents, teachers and students at the end of online learning in May. Students received in-depth training this week and The Parents Association will follow up with information on Teams training for parents soon.  Training was conducted by Morganna Pearse.
Morganna has worked for Microsoft for 26 years, first in South Africa, then the UK and for the past 18 years in Ireland.  Even though the roles Morganna has held at Microsoft have been and are technical and IT related, the degrees and diplomas she holds are for a Bachelor of Fine Arts, a Bachelor of Arts in Psychology, a Diploma in Parent Mentoring, a Higher Diploma in Relationship Studies and a Post Graduate diploma in Human Resource Management.  Morganna is currently studying towards her Masters in Human Resource Management.  In addition to this, Morganna is a qualified Mentor and Trainer with the Microsoft Customer Services and Support Mentorship Academy.  Morganna is also the Microsoft Ireland Junior Achievement Ambassador and as part of this role regularly delivers Junior Achievement curriculum to students in classrooms at schools across Dublin.  For the past 6 months, in addition to her day job and other activities, Morganna has been volunteering for the Microsoft Education Organization training teachers on Microsoft TEAMS.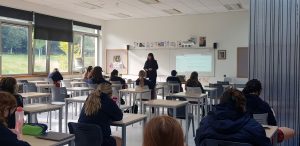 First Year Choir
First Years continue to make the most of our outdoor auditorium for choir class with Ms Mahon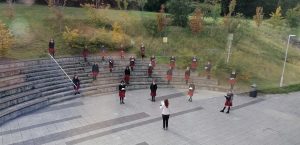 VHI Women's Mini Marathon
This year the VHI Mini Marathon is virtual and the majority of the students in Rosemont School will be taking part. The students will run/walk the 10km on our hockey pitch across a number of sessions next week.
The sessions will include their PE class, Wellbeing class and one other 40 minute class during the week. The charity we are supporting is Irish Cancer Society.
If you would like to support this charity, please sponsor our girls or you can register for the marathon and do the walk/run in a location of your choice.
The cost of entering is €10 and you will get a VHI mini marathon t-shirt and a medal. Ms Mercer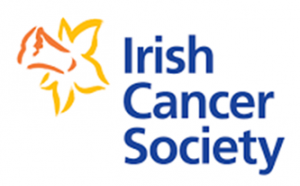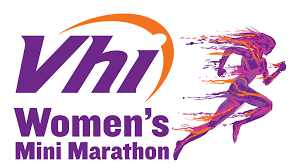 After School Sports
After School Sports will begin week commencing 5th October; we will continue to respond to the health advice regarding Covid-19 restrictions. We encourage all our students to participate
 Week 5th – 9th October
*Tuesday – 1st Year Basketball (4.10-5.10)
Wednesday – 1st Year Netball (3.30-4.30)
*Thursday – 2nd Year Netball (3.30-4.30) & 3rd-6th Year Netball (4.30-5.30)
and the following week:
Week 12th – 16th October
Above sessions plus
Monday – 3rd-5th Basketball (4.10-5.10) & 2nd Year Basketball (5.10-6.10)
Thursday – 1st Year hockey (3.30-4.30)
Junior and senior hockey on Fridays will commence ASAP.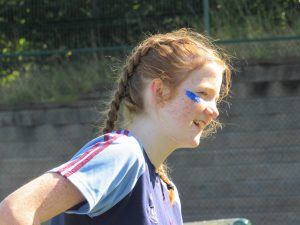 Nut-Free
Nut-free policy we remind you that we have a nut-free policy in school to protect students with severe nut allergies.  Parents can support this by helping their daughters to ensure their lunch and snacks are nut-free.
School uniform update
As previously explained, one of the Covid-19 strategies required in schools is increased ventilation.  As an early drop in temperatures has already begun, we have decided to introduce the option of trousers to the school uniform. This possibility was discussed with the girls 2 years ago and there was little interest, so we did not pursue it at that time.  However, we will now commence a consultation with parents, students and teachers on the design of this optional addition to approved uniform.  More will follow on this shortly.
Meanwhile, we want to draw your attention to the following options:
Students may consider wearing navy tights or leggings under their kilts
Students who wish to be able to wear trousers now (in advance of the design and approval of the final uniform trousers) may use the navy trousers available in Marks and Spencers.  The approved new uniform trousers will supersede these trousers once they become available.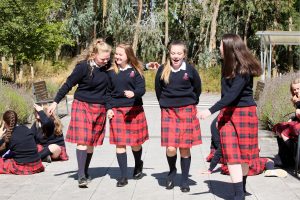 Rosemont School Open Day
Our Open Day will take place via Webinar next Saturday October 10th.  Please find below a link to register for anyone you feel it may be of interest.
Webinar Registration