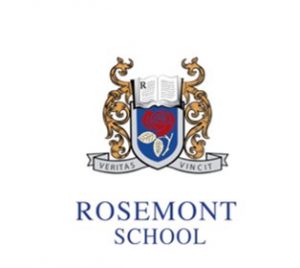 Weekly News:
Class of 2022
Prefects and Student Council 2022-23
Sports Timetable
1st Year Literary Tour
TY CTYI
TY modules
School Musical
Friday Fun
Sustainability &The Young Environmentalist Awards
Rosemont Features
Class of 2022
Leaving Certificate Results
| | |
| --- | --- |
| Points achieved | % of students |
| 625 | 3 |
| 600+ | 18 |
| 550+ | 33 |
| 500+ | 39 |
| 450+ | 57 |
| 400+ | 85 |
We are exceptionally proud of the class of 2022 and their academic achievement—well-done girls.  We wish you every success going forward.
As we know, academic results are only one measurement of a school.  While Rosemont is an academically stimulating environment, we educate girls through an atmosphere of open intellectual inquiry, deep respect for personal freedom, and emotional development so that each girl is the driving force of her educational journey, with independence of thought and respect for others.
Prefects and Student Council 2022-23
Student Council Class Representatives 2022-2023
Head Girl – Réana S
Deputy Head Girl – Jean C
1st Year Prefects
ELM – Jean C & Clodagh B
OAK – Réana S & Nicole O'B
2nd Year Prefects
ELM – Siddhi S & Niamh B
OAK – Rebecca J & Éimear S
3rd Year Prefects
ELM – Sabastine P & Catherine W
OAK – Anna P & Annika C
Student Council Class Representatives 2022-2023
2nd Year – Laura M (Elm)
Zahra T (Oak)
3rd Year – Abbie H (Elm)
Emilia M (Oak)
Transition Year – Ella-Mai K (Elm)
Andrea J (Oak)
5th Year – Ella O'L (Elm)
Nabeeha M (Oak)
Sports Timetable
DAYS
Session 1
Session 2 – TIME; 4.45-5.45
Monday
1st yr. NETBALL
4/5/6th yr. NETBALL
3rd & 4th yr. HOCKEY
Tuesday
1st yr. BASKETBALL
2nd BASKETBALL
2nd yr. HOCKEY
1st Yr. HOCKEY
Wednesday
1.45 – 2.45pm
2.45 – 3.45pm
½ DAY
MATCHES
MATCHES
HOCKEY MATCHES
HOCKEY MATCHES
Thursday
3rd yr. NETBALL
2nd yrs. NETBALL
2nd Yr. HOCKEY
3rd & 4th yr. HOCKEY
Friday
3rd & 4th yr. BASKETBALL
5th & 6th yr. BASKETBALL
1st yr. HOCKEY
1st Year Literary Tour
THis week all 1st years went on a Literary Tour of Dublin.  The deluge failed to hamper their enjoyment.  Big thanks to 5th years  Nabeeha M, Holly F, Lucy B, Ella M who helped out on the trip.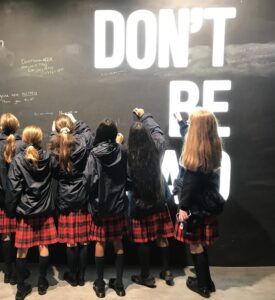 TY – CTYI 
Congratulations to the following girls who were selected by DCU CTYI for this semester;
Chiara B – Psychology, Emily D – Sports Science , Kate S – Sports Science, Sarah S – Law and Politics
TY – Modules
TY's have launched into the sailing TY module.  Everyone seems to be enjoying themselves and learning lots.  The girls are currently away in Carlingford, we look forward to hearing more about their trip!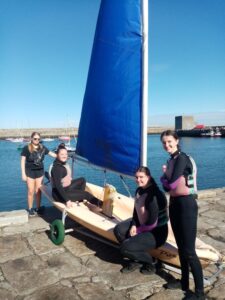 School Musical
Auditions were all week after school,  congratulations to everyone bravely trying out!
Sustainability and The Young Environmentalist Awards
We would like to remind all students to switch off lights when leaving an empty room both at school and at home.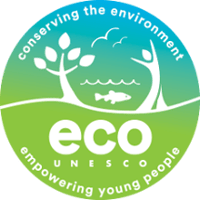 What are the Young 
Environmentalist

 Awards?
ECO-UNESCO's Young 

Environmentalist

 Awards (YEA) is an all-Ireland environmental awards programme that recognises and rewards young people who raise environmental awareness and improve the environment.  The YEA programme is a fun and exciting way to empower young people to work together to build awareness of environmental issues in the community and promote local actions and lifestyle changes to the environment.
Find out more
Rosemont Features
As part of our weekly news, each week will feature a different video of students or teachers.  This week Keelin, class of 2022