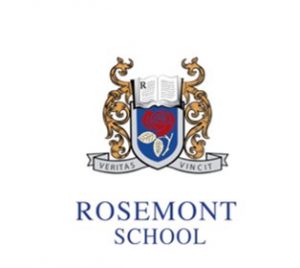 This weeks news:
A Message from Ms Dean
1st Year Netball
Spanish Department
Debating
Geography Department
TY Gatsby Party
Subject Series
Halloween Fun
A Message from Ms Dean:
Dear Parents,
I hope that you and your family are well.
The past six months have been a unique time for all of us.
We are keenly aware of the additional stress and strain this time has brought upon our staff and students as well as their families.  You all remain very much part of our prayers.
School life has thankfully continued, quite differently but happily without incident. Our school life has continued so well because of the continued efforts of our teachers, admin, caretaking and cleaning staff and our students who do their very best to follow safety procedures and guidelines.  I am acutely aware it is a big ask of our young students to wear masks throughout classes all day everyday.  They have been so cooperative.
I am very proud of our school community and what we have achieved over the last number of months.  We are delighted that schools have continued to remain open.  Our teachers are prepared and have continued to up-skill for teaching online if it becomes necessary.   However, we remain hopeful that it will not be required.
I thank you all for your patience as we continue to adapt to living and educating alongside Covid-19.
We are delighted to announce that we now have a plan in place to roll-out online Parent Teacher Meetings in the coming months.  The 6th, 3rd and 1st year meetings will take place between November-December.  2nd, TY and 5th year meetings will take place January-February.
The parents/guardians of each year group will receive the relevant information in advance of their P-T meeting.
Happy Halloween and we hope everyone enjoys the well-deserved break.
Kind regards,

Janet Dean
Principal
1st Year Netball:
1st years had a great time this week learning the rules of netball and forming a new team!
Spanish Department:
The Spanish department completed a culture unit on "Dia de los Muertos." The students in 1st and 2nd year had a great time decorating "Calacas" as well as learning about all the traditions involved in this Mexican celebration.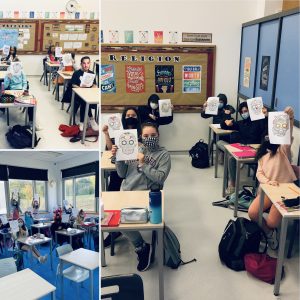 Debating:
The 4 TY students have all qualified for the National Quarter Finals of the Mace competition. (Held over from last year). They had to write a 5 minute speech and submit it. They now have to do the same again. Down to 32 from over 300.
Congratulations Sabastine, Nicole, Niamh, Karolina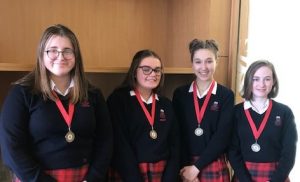 Geography Department:
Reana in TY has developed a unique doorstop for the geography room
A great way to ventilate the classroom during Covid-19 times.
#geographyrocks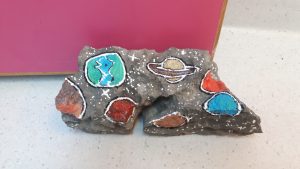 TY Gatsby Party:
TY's hosted a Gatsby party this week for 5th years.  By all accounts everyone had a marvellous time.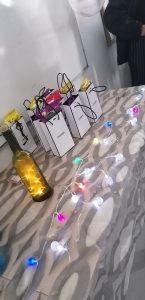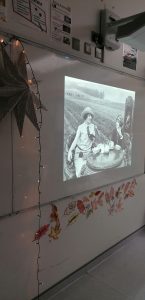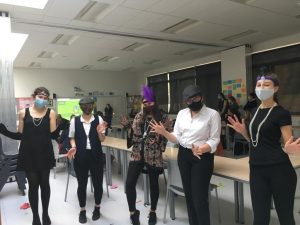 Subject Series:
This week we present The English Department
Today 2nd years performed 3 key scenes from Oscar Wilde's The Importance of Being Earnest to an audience of 3rd years.
The students had the roles of scene directors, costume/prop directors, and actors. The scene directors decided on staging, emotion, and overall vision. The costumes/props directors researched costumes for each actor and found the necessary props, even turning an umbrella into a treetop! The actors memorised their lines, got into character, and gave a great performance!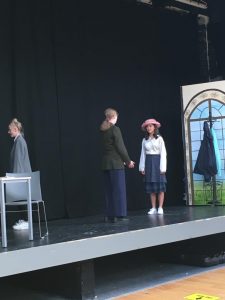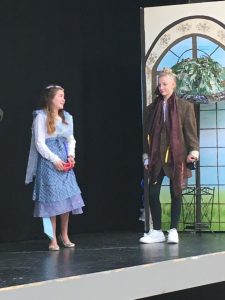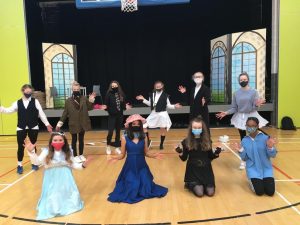 Halloween Fun:
Today, Friday, is the Halloween dress up day. Students did not have their usual Friday house assembly but instead were in their regular year assemblies whereby Prefects were able to visit the classes to look for "Best dressed" in the year.   I hope someone checked the staff room!