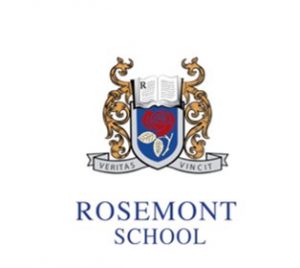 This weeks news:
BT Young Scientist and Technology Exhibition
1st year Parent Teacher Meetings
TY presentation evening
Language Clubs
Guest Speaker
Teacher Series
BT Young Scientist and Technology Exhibition:
Congratulations to Sabastine P on receiving her certificate for qualifying for the BT Young Scientist and Technology Exhibition.  We look forward to hearing more on her submission.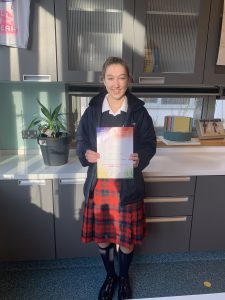 1st year parent teacher meetings:
A reminder to 1st year parents their Parent Teacher Meeting will take place next Thursday 3rd December 6pm via Zoom
TY presentation evening:
Well done to TYs on running a superb Zoom evening on Wednesday.  The girls eloquently delivered presentations on the many activities that have taken place so far this academic term.
Language Clubs:
Rosemont School has recently launched a languages clubs initiative.  Please see below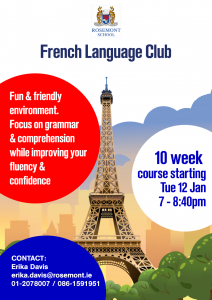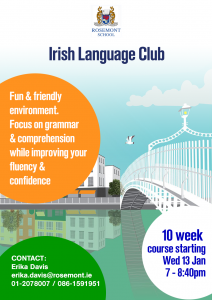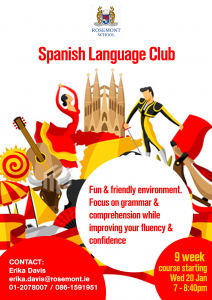 Guest Speaker:
Sincere thanks to Caroline Grace Cassidy for taking time out of her busy schedule to speak to 1st years.  Caroline, is an Irish film and television actress, screenwriter and bestselling author of seven novels. In addition, Caroline is a well know TV panelist. Caroline spoke to 1st year English, sharing her tips about creative writing and the writing process.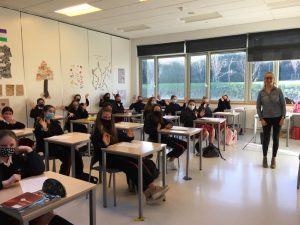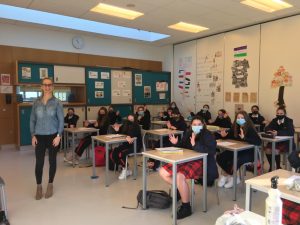 Teacher Series: Ms Kelly, English